ATCO Gives Students a Taste of a Career in Energy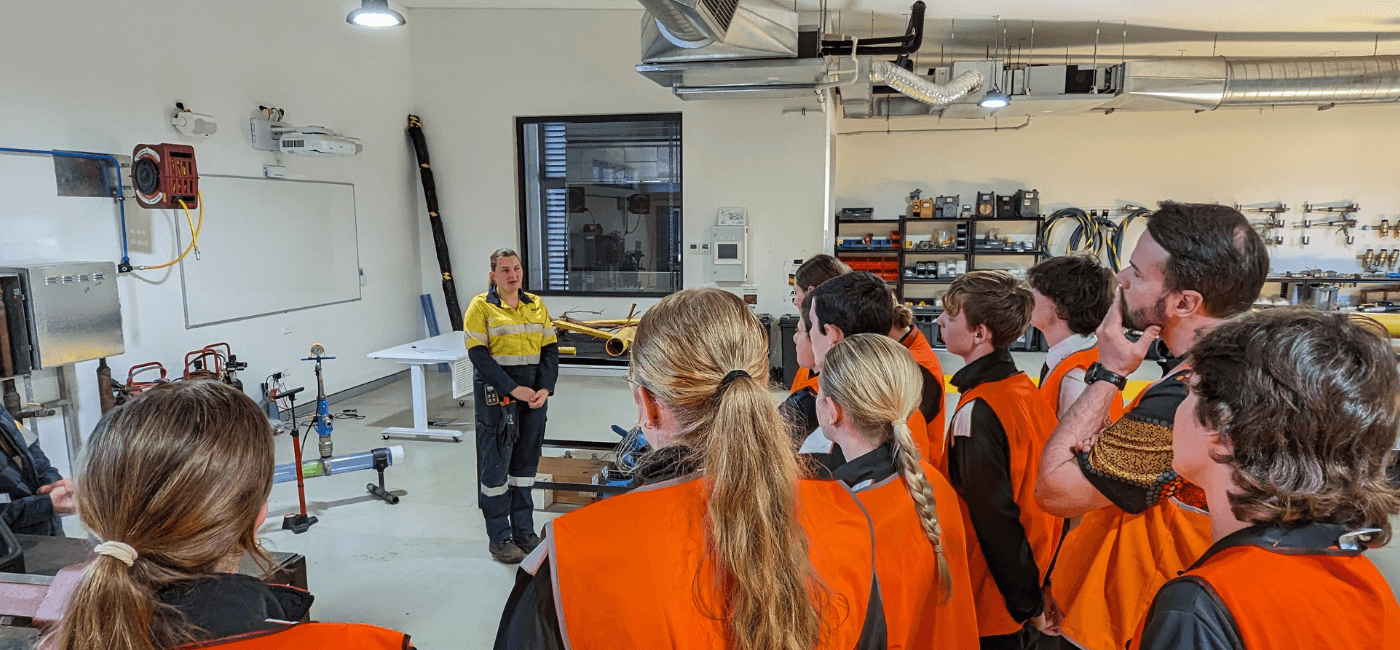 ATCO is giving Year 9 students an exclusive look at the many exciting careers in the energy industry. ATCO joined the Year 9 Career Taster Program (CTP) in early 2023 and has welcomed over 45 students to its Jandakot Operations Centre in only a few short months.
The Year 9 Career Taster Program is designed to challenge school students' thinking, spark their 'career curiosity' and make connections between education and post-school opportunities. It is offered at an important time of a young person's education, allowing them to gain authentic insights into different industries and help inform their subject selection for Years 10, 11 and 12.
Seton Catholic College was the latest school to visit ATCO as part of the CTP. Seton students toured ATCO's large and modern office, exploring the Blue Flame Kitchen, Control Room and Contact Centre while meeting many friendly faces along the way. Representatives from ATCO's diverse teams explained how seemingly basic skills such as writing, math and computer knowledge are used on a daily basis to help them succeed at work.
Brooke Cable, Trainee Gas Distribution Officer (GDO) showed students the tools of the trade, noting the important role communication, physics and chemistry play while she is in the field. At the other end of their career journey is Matthew Marshall, ATCO General Manager Network Operations who explained that university is not the only path to success.
"I don't have a university background, I started working on Western Australia's gas network as a GDO in the field. With years of commitment to the job I'm now fortunate enough to lead a large team responsible for safety and reliability of a network that extends more than 14,000km. It's a humbling journey to reflect on."
Students were also given a glimpse at the future as they met Jim Richardson, ATCO General Manager Renewable Fuels. Mr Richardson explained how ATCO is pioneering hydrogen technology with its Clean Energy Innovation Hub, Hydrogen Refuelling Station and Blending project* which involves 2,700 homes within the City of Cockburn using a small percentage of hydrogen in their gas mix. Students even looked under the hood of a Toyota Mirai, one of ATCO's 16-strong fleet of H2 vehicles.
Catherine Jack, Head of Careers and VET at Seton Catholic College said their students enjoyed learning about the evolving energy industry.
"It was wonderful to see the students so engaged in conversations about energy efficiency and sustainability. They were really energised from the experience and were able to learn about technology and processes that were new to them. Meeting staff from apprentices to risk management engineers was really eye opening for them and something they will not forget."
Through collaboration between the State Government, individual schools and industry partners such as ATCO, West Australian children are able to dream big and think how their skills can be turned into successful careers.
*The Hydrogen Refueller Project and Hydrogen Blending Project both receive funding from the Renewable Hydrogen Fund as part of the WA Government's Renewable Hydrogen Strategy. The Clean Energy Innovation Hub received funding from ARENA as part of ARENA's Advancing Renewables Program.
The views expressed herein are not necessarily the views of the Western Australian or Australian Governments, and the WA and Australian Governments do not accept responsibility for any information or advice contained herein.