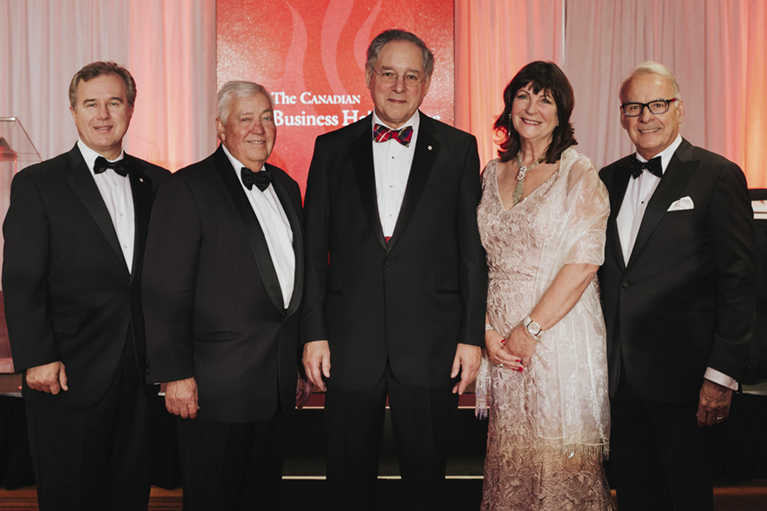 Tonight, we celebrate and honour the remarkable success of Canada's business leaders as the 39th annual Canadian Business Hall of Fame Gala Dinner and Induction Ceremony takes centre stage at the Metro Toronto Convention Centre. At the event, our Chair, President & CEO, Nancy Southern, will join her father and ATCO's founder, R.D. Southern, as a Companion in the Canadian Business Hall of Fame. 
"It is a singular honour for me to accept this recognition on behalf of the people of ATCO, for it is truly their collective commitment that has allowed ATCO to excel," said Nancy. "I am humbled by the legendary accomplishments of the leaders of industry who are past and present recipients of this award and I feel truly privileged to be named alongside them."
This momentous occasion will mark only the fourth time in the Hall's history that the child of a Companion has followed in their footsteps to be inducted.
Hosted by famed CBC anchor Peter Mansbridge, the gala recognizes and celebrates the lifetime achievements and outstanding contributions of four inductees.
Alongside Nancy, this year's Class of Companions include: 
Alain Bouchard, Founder and Executive Chairman of the Board of Alimentation Couche-Tard Inc.
Thomas Jenkins, Chair of the Board of OpenText Corporation
Clay Riddell, Executive Chairman of Paramount Resources Ltd.
Each year, Companions are nominated by an independent selection committee comprised of business leaders and academic groups. They are mandated to seek individuals with specific and exceptional qualities in the areas of civic leadership, national impact and role modeling.
During their search, the selection committee acknowledged the contributions and crucial road map R.D. Southern paved for ATCO. Nancy's induction not only represents her continuing our company's growth and success, but her high-calibre style of leadership, particularly in her commitment to innovation and corporate philanthropy.
"She clearly stands out on her own merit," says Tim Hewat, Partner at Lee Hecht Harrison Knightsbridge, whose group managed the selection process. "Coupled with her personal transparent approach, Nancy is a very compelling leader and a strong inspirational role model for young women."
Proceeds from the gala will help JA Canada meet the growing demand of financial literacy, work readiness and entrepreneurship programs for Canadian students.