Enhancing client and guest experience through technology
Providing our customers and guests a great experience is essential to our business, and by promoting innovation across our operations we're able to deliver solutions that bring this to life. We consider it our Frontier Spirit – to push the boundaries and try new things. 
The use of technology to overcome obstacles set by the COVID-19 pandemic has kept our workforce camps operating smoothly throughout these challenging times. For instance, at the Sunrise Lodge we save both time and resources by using robotic floor cleaners, and staff are now able to spend their time on more precise cleaning and sanitizing measures.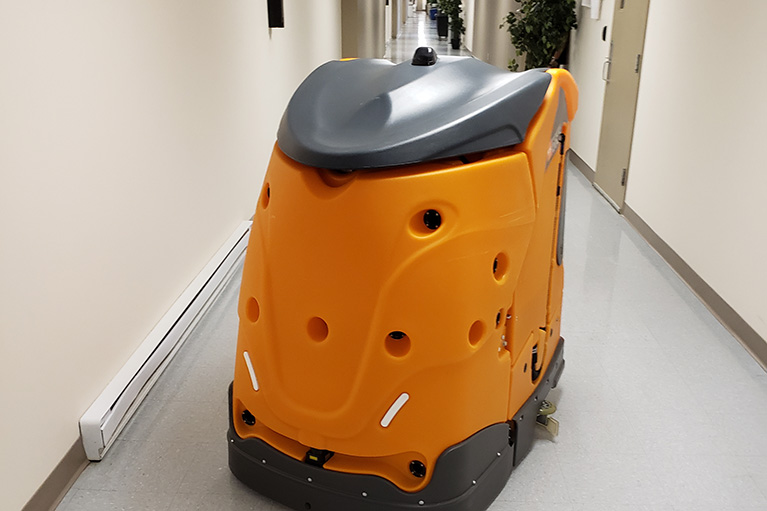 There's an app for that
In the workforce accommodation industry, mobile apps are gaining popularity and utility. We offer a mobile sandwich ordering app, allowing for made-to-order sandwiches and greater time convenience for users. This system reduces congestion and touchpoints in dining areas through advance ordering and easy pick-up. And a new scheduling app will allow guests to book their meal times, further allowing for social distancing in the dining room. 
Two Rivers Lodge is spread out over a great area that can take over fifteen minutes to cross on foot, so to reduce needless trips by housekeepers a mobile housekeeping system is in place. This app allows housekeepers to track and document tasks, verifying rooms have been sanitized for guests. Both valuable time and paper are saved, and touchpoints are reduced to prevent the spread of infections.  
Checking out a busload of guests can take up a great deal of time, and Two Rivers Lodge overcomes this issue with a mobile self-check-out system. This increases efficiency and reduces touchpoints during the check-out process, and they're also implementing a self-check-in system to further improve efficiency and safe distancing.
Our Elk Valley Lodge tracks work orders and maintenance issues using a Computerized Maintenance Management System (CMMS). They save both time and paperwork through this system as it allows scheduling of planned and preventative maintenance. Throughout this pandemic, this app has also helped retain physical distancing measures through planning work in advance and managing the number of people in one place. 
staying in touch, without touching
In order to track and increase customer and guest satisfaction we use an automated survey platform. This platform- operating via both kiosks and a smartphone app- allows for guest feedback to be submitted and addressed rapidly. Adding this line of communication is essential to maintaining confidence with our clients and guests.
Each innovation at our camps represents a step that we are taking towards improving life for guests and our employees keeping the camps running. We're proud of our dedicated teams that are implementing practices that keep the communities where we work safe.