It's time to move kids out of portables and into classrooms
Every academic institution strives to provide students with the best possible tools to achieve the education they deserve.  For decades, administrators in budget constrained school systems have turned to portables as a quick and affordable interim solution to address rapidly changing and shifting demographics.  Over the past 50 years, anyone who went to school in Canada knows the experience of a portable.
The Perfect Alternative
The time has come for parents, teachers, and decision-makers alike to turn to the SAGE Classroom as an alternative.  Here's why:
It's intelligent building design.  It's advancement beyond the status quo.  It's a new generation of learning environment where science and innovation combine with the flexibility of relocatable classrooms and the efficiency of modular construction to create a healthier space for kids of all ages to learn and grow in.
Our environment can affect our mood, our productivity, our creativity – that's a fact.
Specific design features unique to the SAGE Classroom include superior indoor air quality, stabilized ambient temperature, four times more natural light (than conventional portables), and the use of green building materials, not to mention reduced energy usage which lowers operational costs and is kinder to the environment.  In comparison to conventional portables, the tangible benefits are quantifiable and measurable; and at a relatively comparable price, we think the decision to integrate SAGE into your program is an easy one.
We know kids and teachers thrive in SAGE Classrooms.  Where they have been introduced, parents want their kids to attend that school and teachers jockey for position to teach in those spaces.  ATCO Sustainable Communities is proud to partner with the sustainable design leaders from Portland State University to introduce this award-winning classroom alternative to Canada.
Benefits
The benefits of this transformational design are undeniable – the science proves it.
Researchers at the Harvard T.H. Chan School of Public Health reviewed findings of over 200 international studies in their report, Schools for Health:  Foundations for Student Success.  Their findings confirm the undisputable link between school environments and academic performance:  unhealthy classroom environments are associated with decreased productivity, health issues, and increased absenteeism; healthy classroom environments have a positive impact on student health and student performance.
SAGE: Smart Academic Green Environment
And it's specifically engineered to support thinking.
Ventilation and Indoor Air Quality

We all know that feeling of stuffiness and wooziness when we're in a poorly ventilated building – kids know that feeling too.  They may not be able to verbalize it but is shows up in their performance.  In fact, one finding found a half-day reduction in school attendance for every 100 parts per million increase in CO2.

Ventilation is used to control the purity, temperature, humidity and movement of air by regulating the incoming, outgoing, or circulated air.  When air is properly ventilated, students and teachers are healthier, have longer attention spans, and are more productive.

The SAGE Classroom reduces the energy normally wasted in over‑conditioning the air and instead focuses on significantly increasing ventilation.

The SAGE HVAC System:

Utilizes an Energy Recovery Ventilator (ERV) to provide 3 times the air exchange
Applies low velocity fans to circulate the air
Promotes natural ventilation with the addition of operable windows and the option of two doors
Incorporates a single spiral duct
 

In addition, the use of environmentally safe and sustainable materials means no or very low VOCs in the air.

Thermal Comfort

Good indoor air is characterized by the right room temperature, proper humidity, cleanliness and freshness.  Thermal comfort is a fancy way of saying a person is happy with the ambient temperature.  Much like Goldilocks, most of us don't like the room to be too hot or too cold.

Complex task performance, focus, reaction time, reasoning, and planning skills are all vulnerable to extreme warm and cold temperatures.  Several large studies demonstrate the significant effect on academic performance.  For example, a study of 3,000 fifth-graders reported an increase of 12 to 13 points in average mathematical test scores for every 1°C decrease in temperature within the range of 20 to 25°C.  It's quite simple:  the more comfortable a person feels, the more productive they will be – this is true of adults and children.

The SAGE Classroom:

Utilizes occupants' body heat as a primary heat source
Incorporates Phase Change Material in the walls to act as thermal mass to stabilize the indoor temperature
Implements a tight building envelope
Integrates an overhang to block unwanted solar heat gain while still allowing windows to admit increased natural daylight


Lighting

Sunshine is light the way nature intended it – it changes colour and intensity with the time of day, and it contains a natural balance of all the colours in a rainbow.  

Exposure to sunshine is important for proper brain function.

Beyond creating optimal viewing conditions to read, write, and see the whiteboard or blackboard, boosting natural light in a learning environment reduces eyestrain, headaches, sleep disturbances, and depressive symptoms.  Natural light contributes to student productivity, higher levels of alertness, and visual comfort.  It has a direct impact on health because of the way it influences circadian rhythms and mood.  

Daylighting is the practice of placing windows and skylights so sunlight can penetrate our internal environment.  It also provides almost 20% in energy savings.

The SAGE Classroom incorporates daylighting in its design with 2 to 4 times more square feet of windows than a standard portable including large operable windows, a continuous row of clerestory windows, and skylights.  This combination delivers consistent ambient and variable lighting situations as well as maximized views to the outdoors.

Other unique design features include:

Mini blinds to manually control natural lighting
A higher and angled ceiling to allow natural light to penetrate deeper into the classroom (which also increases perceived classroom size)
Smart LED lighting with occupancy sensors and dimmer switches
Daylight harvesting and proper site orientation to ensure maximum daylighting without unwanted solar heat gain

Custom Tailoring Options Available
Versatile applications with custom tailoring options to suit your organization's specific needs and budget.
The SAGE Classroom is well-suited to accommodate every age group.  Indeed, we envision SAGE ideally suited to daycare, preschool, and pre-kindergarten scenarios in addition to more traditional kindergarten to Grade 12 learning environments in the public, separate, and private school systems.  SAGE also accommodates adult learning and could easily operate within a post-secondary college or university environment, or even as a community learning centre or visitor information centre.
SAGE Classrooms are scalable, permanent or relocatable, and they can seamlessly integrate into any design specifications.  This high performance building is ideal for classroom expansion planning with interlocking modules, and it works as a portable replacement program.  It also functions as a stand‑alone concept, or in partnership with architectural firms as a complement to the design of new or renovation of existing bricks and mortar structures.
Flexible ownership options include purchasing or leasing the SAGE Classroom.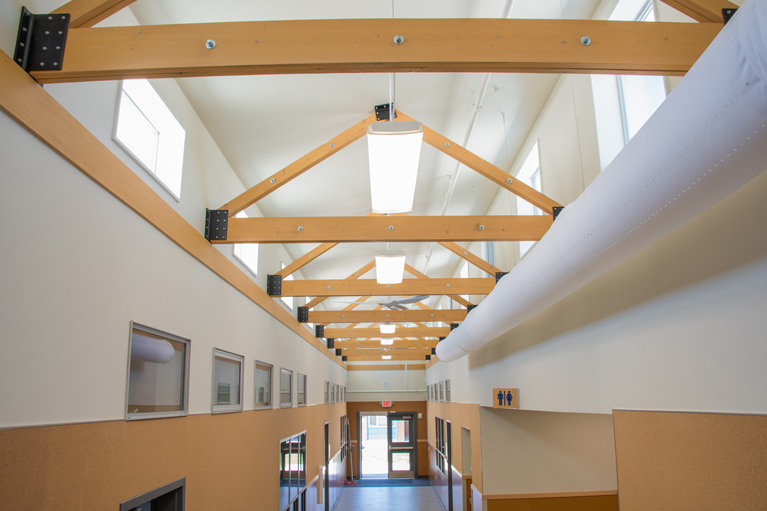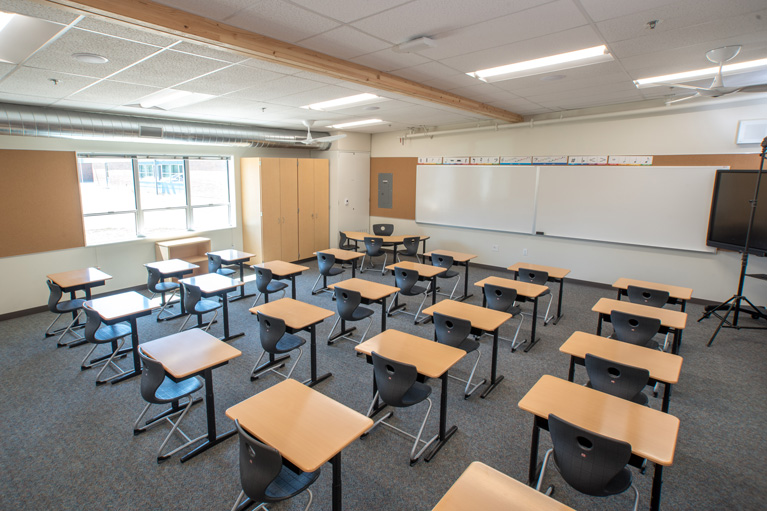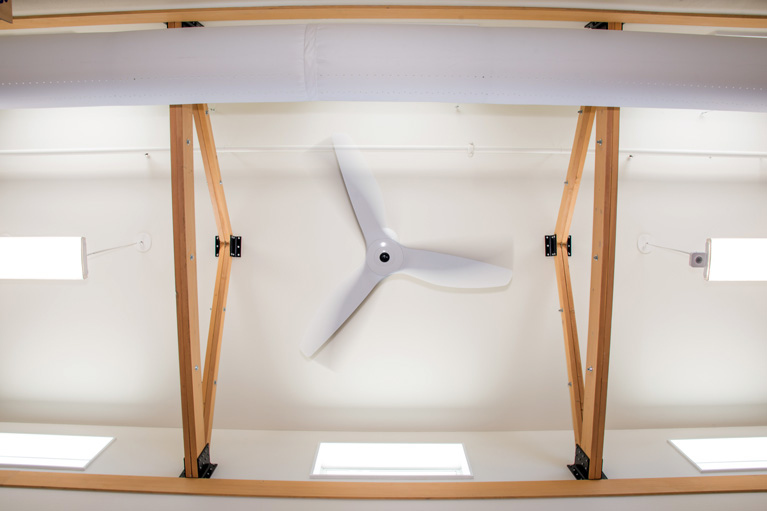 Work with an industry leader
ATCO is an industry pioneer and our design-build process is proven.  As the only certified SAGE provider in Canada, this ensures each classroom solution we deliver is built to our longstanding commitment to the highest quality.
Our success is in our execution.  From design concept to completion, our team works with you to ensure we understand your goals, challenges, and opportunities.  We draw upon our 70 years of construction experience and our talented workforce, and we leverage our innovative modular design-build techniques to manufacture, transport, and install a full turnkey product within your project timeline, specifications, and budget.  In short, we're not happy until you're happy.
Learn more about this amazing new learning environment
Welcome to the evolution of modular learning environments.  Welcome to SAGE. We invite you to talk to us about moving your kids into a SAGE Classroom.