POWERING YOUR BUSINESS
As a source of energy, natural gas has it all. It's reliable, safe, cost effective, and less carbon intensive than many other forms of non-renewable energy. From heating to cooking, as well as more sophisticated applications including co-generation and gas powered air conditioning, there's likely a gas-based solution that could increase your productivity and reduce your costs.
As the cleanest non-renewable energy source, using natural gas appliances can improve the green star rating of your premises and increase property value.
COST EFFECTIVE AND RELIABLE
Once connected to natural gas, there are a number of ways ATCO can help you maximise the value that natural gas can bring to your business such as gas powered air conditioning (GPAC) and combined heat and power (CHP) natural gas generators – you may even be eligible for a financial incentive.

Gas in High Rise
Residents want the option of natural gas but the costs associated with installing the required infrastructure can be a barrier for developers.
ATCO can help. ATCO can supply, install and assist with the costs of gas infrastructure in your development. 
GAS POWERED AIR CONDITIONING (GPAC)
With the concept becoming more and more popular in WA we're helping businesses achieve significant cost and emissions savings through gas powered air conditioning.
In large commercial scale applications such as office blocks, cafes and other mixed use spaces, there is a potential cost savings of up to 40%. We have also seen a reduction in carbon emissions compared with using electricity from the grid.
GENERATION
From a medium sized office to industrial-scale factories, natural gas can be used to generate power, heating and cooling on your premises. ATCO have helped businesses such as leisure centres and hospitality venues capitalise on the power of natural gas for financial and operational benefits. 
Reduce energy costs, reduce emissions with fast ROI and flexible fitout. 
LPG Conversion
Enjoy the reliability and cost benefits of natural gas. Save space on your premises and avoid the inconvenience of LPG delivery by switching from bottled or tanked LPG to connected natural gas. 
Switching is easy. The first step in Switching from LPG to Natural gas is to contact ATCO. ATCO will then perform an in depth energy analysis on your business to determine potential cost and C02 savings.
PROUDLY OPERATING IN AUSTRALIA FOR ALMOST 60 YEARS
Leveraging a 75 year legacy of power generation in Canada, ATCO has been providing gas-fired power generation in Australia for over 20 years

Experienced in building, owning and operating pipeline infrastructure globally, ATCO has successfully managed, developed and expanded the Western Australian natural gas distribution network since 2011, and has the capability and know-how to expand into solutions delivery across gas transmission, storage and processing.
ATCO has been investing in hydrogen since 2017 and considers hydrogen to have a role in Australia's future energy mix. The Clean Energy Innovation Hub has provided the foundation for ATCO to explore hydrogen applications and develop new capabilities. Learnings from this have supported further investigation of hydrogen applications in fuel cell vehicles and refuelling infrastructure, remote applications and standalone power systems and commercial scaling. Our focus is on identifying innovative energy solutions for our customers that not only lower emissions,  but lower costs as well. This is why we are investing heavily in research and development in renewable and emerging technologies.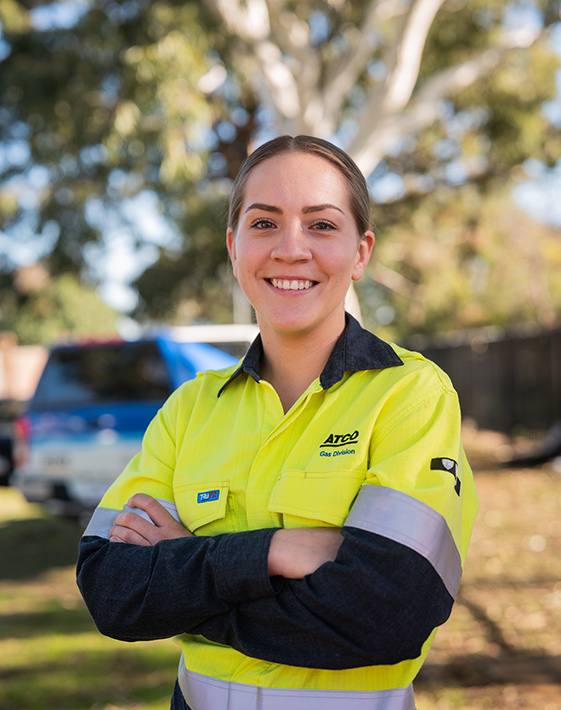 ATCO'S HYDROGEN EXPERTISE
What does the future hold for energy in Western Australia? ATCO are working hard to ensure a safe, reliable and affordable energy future for all Western Australians.